When you are fitted with your bionic arm, you will want to train your arm muscles to ensure you can trigger desired bionic hand motions. The best way to do your training is by slipping on your Hero Arm and re-discovering your everyday environment.
Eating/ Drinking
Picking up a glass of water – new Hero Arm users often send us clips and photos of them picking up items using their bionic arms, most common being a glass or a cup. Start with an empty cup/ glass to avoid spillages and when you're comfortable with the muscle controls, take it further by filling it up. Feeling confident? Go ahead and take a sip. Check out Lisa and Chase experimenting grab and freeze modes to enjoy their beverages and breakfast.
Open a can with a can opener – We have seen Hero Arm users opening everything from a can of chickpeas to coconut milk. Use your Hero Arm to secure and hold the can opener, and turn it using your other arm.
Want to find out if you qualify for free Hero Arm funding? Register to find out full pricing and funding support available.
Hobbies/ Sports 
We love seeing the awesome ways Hero Arm users test the limits of what our technology can do. From bionic roller disco, to weight push-ups at the gym, every user finds ways to incorporate the Hero Arm in their day-to-day life.
Hero Arm users, especially the younger ones, start with a selection of their favourite board games, holding UNO cards is a good way to pass time while letting your arm adjust to wearing a new prosthesis.
If you are taking your Hero Arm out and about, we have seen people use the Hero Arm for various hobbies like hiking, playing ball, and even mini golf. It's also a handy tool (pun intended) when you need to find your way around. Check out bionic Bev navigating the streets of London with her Hero Arm.
If you are feeling pretty confident with the controls of your Hero Arm, you can try your hand at cycling.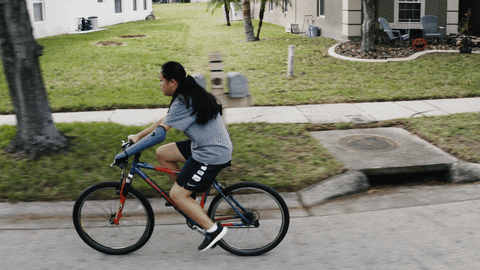 One perk of the Hero Arm is that your arm doesn't get tired from scrolling on your phone, so whether you just love browsing or playing games on your phone, pop it in your bionic hand, activate freeze mode and enjoy.
For the those who love a challenge, logic and puzzle games, why not combine all like this Hero Arm user.
If you are looking to turn your passion or hobby into a career, there are ways the Hero Arm can support you to achieve your goals. Hero Arm user Tilly Lockey won a national singing competition using her Hero Arms to hold the mic. Gracie has been able to break stigmas in the performing arts industry with the use of her Hero Arm, watch a quick interview below.
Like making things? Once you have control of the basic functions of the Hero Arm, apply it to more complex activities like sewing. Corrine used her Hero Arm to make a new pair of dungarees. Check out her other crafty makes on her Facebook page here.
The Hero Arm is a lightweight, breathable prosthesis that's built for comfort. Download brochure and request full pricing to start your bionic journey.
If you are a bit of a daredevil, with the right support you can enjoy pushing your abilities to their limits like Kacey. When the 16-year-old received her Hero Arm, a month later she put her custom prosthetic hand to the test with a private BMX class with none-other than Olympic gold medalist Charlotte Worthington. While it was a challenge, Kacey absolutely loved the experience.
Work/ Leisure
Whether you've had an amputation or were born with a limb difference, the Hero Arm can help you achieve not only personal but professional goals. If you are planning on using your new bionic arm for work, think about the different ways you can put your Hero Arm to work. A Hero Arm user in Washington, DC wears his bionic arm to work to make dual-handed activities less clumsy, watch him in action below.
One thing that really frustrated me in my career was that I always felt a little messy, spilling and dropping things, but now it's so much easier to be able to open the office door while holding a coffee, things like that just make the day so much easier. Even when I used to travel for work, having the ability to hold my ticket and luggage has made the travel experience so much more pleasant. 
For some, the ease on working life has been a welcome change, for others the impact has been life-changing.
Last year, primary school teacher Kath was able to go back to work on a part-time basis after suffering a life-changing sepsis infection that resulted in all her limbs needing to be amputated. She was first fitted with a custom prosthetic hand to help with daily tasks, but she loved the Hero Arm so much she wanted a second one.
"Even after a quadruple amputation, I had this dream of going back to teaching." Kath has been on a long road to recovery, re-discovering the world around her with the use of leg and arm prosthetic devices.
"When I got to grips with the first Hero Arm, it became part of me. I relied on it so much, I had to get a second one." Now Kath is able to write on the board, carry books and teach with her Hero Arms. Watch her getting ready for class below.
Want to find out how the Hero Arm works, and whether it will be the right prosthesis for you? Register to start your bionic journey here.